16 novembre 2018
Voici une image extraite de l'oeuvre présentée la semaine dernière et sa vidéo.
Je tiens à rectifier une erreur de ma part, dans le dernier envoi ce n'est pas une huile sur toile mais une huile sur papier.
"Me" nous propose pour cette vidéo une superbe musique merci à ce compositeur.
Here is an image extracted from the work presented last week and its video.

I want to rectify an error on my part, in the last shipment this is not an oil on canvas but an oil on paper.

"Me " offers us for this video a superb music thanks to this composer.
11 novembre 2018

Empreinte
Une nouvelle huile sur toile, 50X13 cm. Elle est proposée avec une cadre blanc avec pour l'ensemble une dimension de 61x20cm.
Vous pouvez voir l'ensemble des oeuvres de Nelly sur "artmajeur/nelinva", vous y verrez également les tarifs des différentes toiles : encres, huiles, etc
Footprint

A new oil on canvas, 50X13 cm. It is proposed with a white frame with for the whole a dimension of 61x20cm.

You can see all the works of Nelly on "artmajeur/nelinva ", you will also see the tariffs of the various paintings : inks, oils, etc.
02 novembre 2018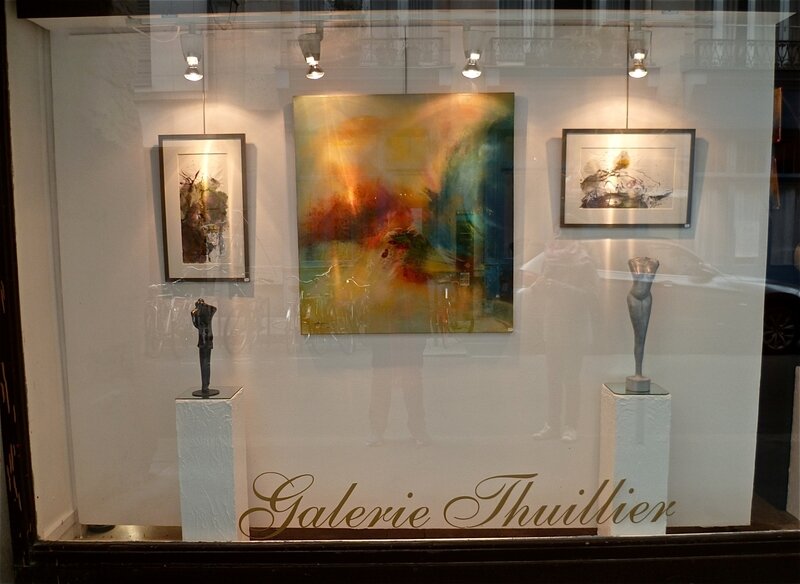 Nelly KIEFFER expose à la galerie Thuillier jusqu'au 8 novembre 2018. Elle présente des encres de chine, des huiles sur toile et des huiles sur papier.
Voici une vidéo du vernissage qui a eu lieu le mardi 30 octobre.
Nelly kare exhibits at the Teh gallery until November 8, 2018. It presents inks from China, oils on canvas and oils on paper.

Here is a video of the vernissage which took place on Tuesday, October 30th.
Nelly KIEFFER à la galerie Thuillier Paris 2018
19 octobre 2018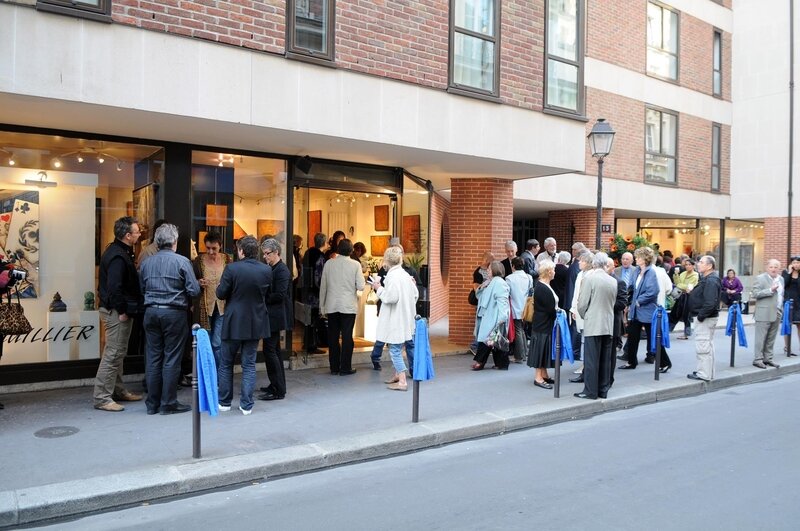 Nelly vous invite à admirer ses oeuvres présentées au salon d'automne de Paris à la galerie THUILLIER. Un éventail de ses productions sera proposé : huiles sur toile, huiles sur papier, encres de chine, oeuvre mixte (huile+encre), séquençage ...
Vous pouvez toujours visionner la vidéo de la semaine dernière, mais aussi profiter de ses 2 nouvelles productions.
Nelly invites you to admire her works presented at the Salon d'automne in Paris at the Galerie Teh. A range of its productions will be proposed: oils on canvas, oils on paper, inks from China, mixed work (oil + ink), sequencing...
You can still watch the video of last week, but also enjoy its 2 new productions.
- Voyage : une oeuvre mixte huile + encre
- Travel : a mixed work oil + ink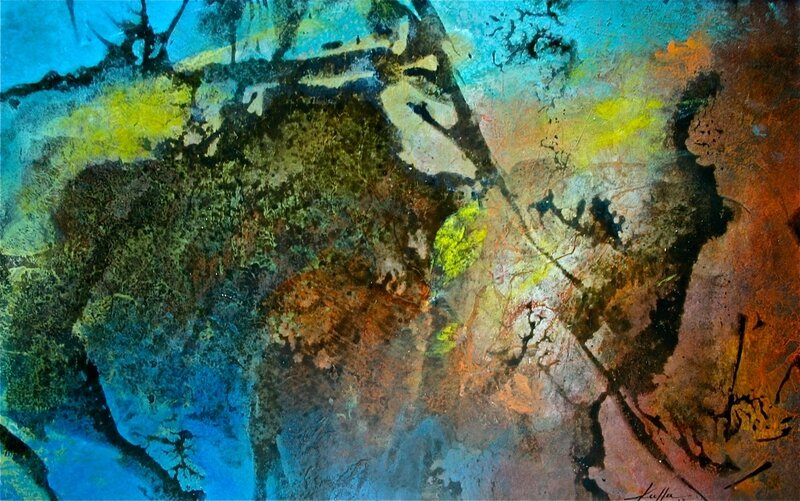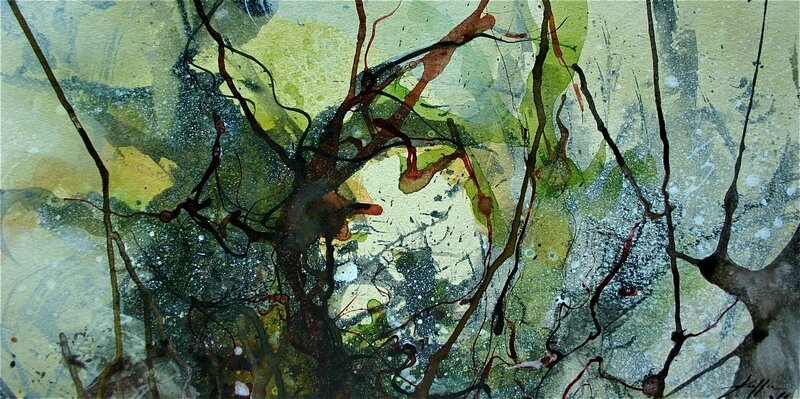 - Debussy : une superbe encre de chine
- Debussy : A superb ink from China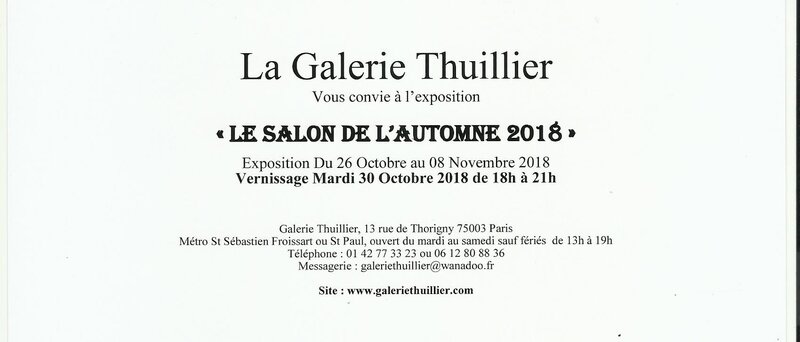 Je vous rapelle que l'exposition dure près de 2 semaines mais que Nelly sera présente uniquement lors du vernissage. Alors si vous souhaitez rencontrer l'artiste : rendez-vous le mardi 30 octobre de 18 à 21 heures.
I remind you that the exhibition lasts almost 2 weeks but that Nelly will be present only during the opening. So if you want to meet the artist appointment on Tuesday October 30th from 18 to 9 pm.
13 octobre 2018
Nelly KIEFFER au sa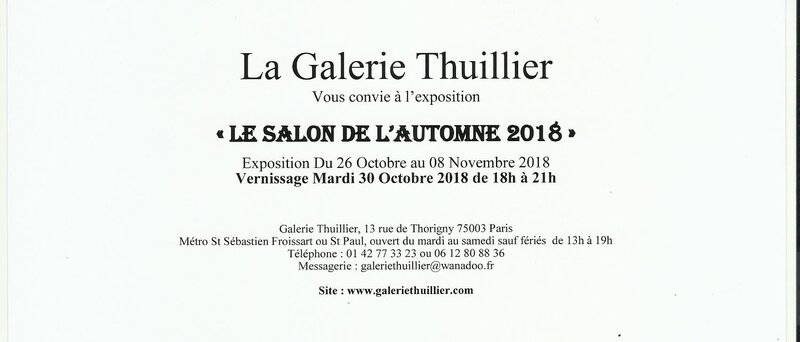 lon d'automne à la galerie THUILLIER
Voici sur cette vidéo les oeuvres présentées par Nelly au salon d'automne à la galerie THUILLIER du 26 Octobre au 8 Novembre à Paris
Par contre Nelly sera uniquement présente lors du vernissage : le mardi 30 octobre de 18 heures à 21 heures. Si vous désirez rencontrer l'artiste nous vous donnons rendez-vous ce jour précis.
Here on this video the works presented by Nelly at the Salon d'automne at the Galerie Teh from 26 October to 8 November in Paris
However, Nelly will only be present at the opening: Tuesday 30 October from 6 p.m. to 9 p.m. If you want to meet the artist we will give you an appointment on this particular day.