15 mars 2018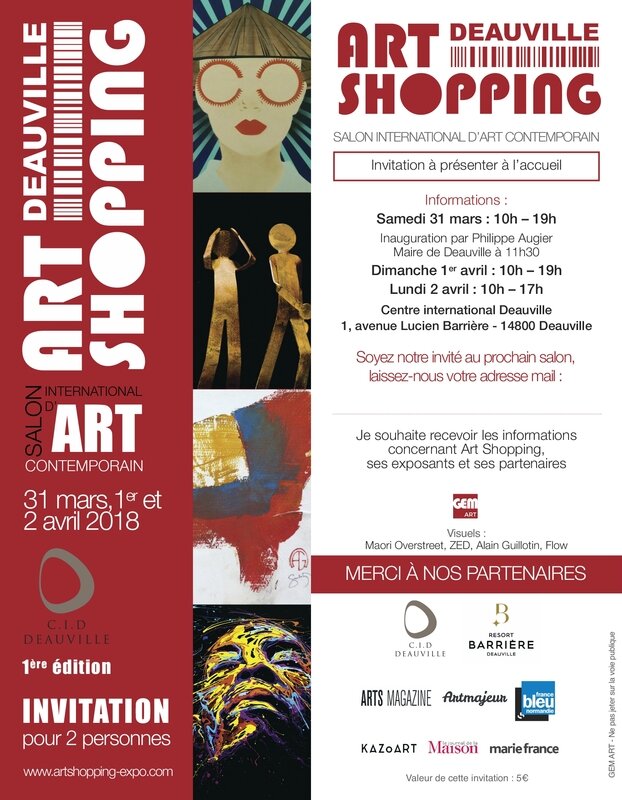 Voici une invitation pour 2 personnes, au salon de DEAUVILLE où Nelly KIEFFER tiendra le stand n° 10. Pour les personnes intéressées par le travail de l'artiste, nous vous y attendons avec plaisir. Vous pouvez photocopier cette invitation et la présenter à l'entrée.
Au plaisir de vous rencontrez !
Here is an invitation for 2 people to the Salon de DEAUVILLE where Nelly kare will be holding booth N ° 10. For those who are interested in the work of the artist, we are looking forward to it. You can photocopy this invitation and present it at the entrance.

Looking forward to meet you !
09 mars 2018

Une nouvelle oeuve mixte huile et encre
Conversation entre deux matières, rencontre onirique. Eveil aux caprices du temps, Nelly nous embarque dans des méandres qui serpentent au gré de notre imaginaire.
A new work mixed oil + ink
Conversation between two subjects, dreamlike encounter. Awakening to the whims of time, Nelly embarks us in times that meander according to our imaginary.
02 mars 2018
Voici une vidéo et un extrait de l'oeuvre présentée la semaine dernière.
Nous percevons la subtilité du travail de Nelly KIEFFER : les couleurs et les harmonies s'intègrent bien de ce projet d'abstraction lyrique.
Visionner la vidéo pour découvrir la finesse du rendu. Et évadez-vous avec la musique de notre ami ME.
Here is a video and an excerpt of the work presented last week.
We perceive the subtlety of Nelly Kare's work: colours and harmonies integrate well with this lyrical abstraction project.
Watch the video to discover the finesse of the rendering. and escape with the music of our friend ME.
23 février 2018
Une nouvelle oeuvre mixte Huile sur papier et encre de chine (19X37cm).
En attendant des jours meilleurs en terme d'ensoleillement, Nelly aime s'atteler à des oeuvres moyennes au niveau des dimensions.
Comme on dit "il en faut pour tous les goûts( ou tous les murs)".
Nelly varie les formats des grandes toiles (notamment celles présentées dans les salons plus de 1,50 m) et des plus petites.
Les grandes sont essentiellemnt des huiles sur toile que vous pouvez retrouver dans l'album figurant sur la page de présentation de ce blog.
D'ailleurs, si vous allez visiter les albums, vous y verrez plus de 300 oeuvres dont certaines garnissent les murs des fans de Nelly.
A new work mixed oil on paper and ink from China (19X37cm).
While waiting for better days in terms of sunshine, Nelly likes to work on average works at the level of the dimensions.
As they say "It takes for all tastes (or all the walls)."

Nelly varies the formats of the large canvases (especially those presented in the salons over 1.50 m) and the smaller ones.
The big ones are unless substantially of oils on canvas that you can find in the album appearing on the page of presentation of this blog.

Besides, if you are going to visit the albums, you will see more than 300 works, some of which adorn the walls of Nelly fans.
Dear readers, American or Canadian, you like the works of Nelly, you want to buy one!
Contact the artist at his e-mail nelinva@yahoo.fr
You think about a gallery that can receive it, same address
16 février 2018
Voici une des dernières créations de Nelly ! Un superbe tryptique ! une huile sur papier qui est proposée encadrée. Les dimensions 72,5 X 50 cm sont de nature à bien figurer sur un mur de votre salon, alors contactez Nelly voici son mail nelinva@yahoo.fr
Here is one of Nelly's latest creations! A superb tryptic! An oil on paper that is proposed framed. The dimensions 72.5 X 50 cm are likely to be well placed on a wall of your living room, so contact Nelly here is her mail nelinva@yahoo.fr