15 décembre 2017
Une production 2017 axée sur des toiles grands formats qui ont connues un grand succès lors des salons. Mais, aussi des encres de chine que Nelly KIEFFER propose encadrées.
Un rappel des belles toiles avant la nouvelle année !
2017 production focused on large format paintings that have been very successful at trade shows. But, also inks of China that Nelly KIEFFER offers framed.
A reminder of beautiful paintings before the new year!
PRODUCTIONS NELLY 2017
08 décembre 2017
Voici Dragonis, une des toiles les plus appréciées pas les visiteurs dans les salons. Elle interpelle le l'observateur qui dans son émoi émet des suggestions : création du monde , bing-bang, entité naissante...Ce tableau suggère, inspire et nous aspire dans le mystère et la symbolique une des influences de Nelly dont elle se réfère (odilon REDON).
Nous retrouvons toute la finesse du travail de l'artiste : couleurs, mathématique des teintes, accumulation de matières.
L'auteure excelle dans la douceur de son art. Pas de violence, pas d'agressivité. Nous glissons avec elle dans l'abstraction lyrique tel ZAO WOU-KI son maître.
Plongez dans cette vidéo, entrez dans le monde énigmatique de Nelly et laissez un commentaire !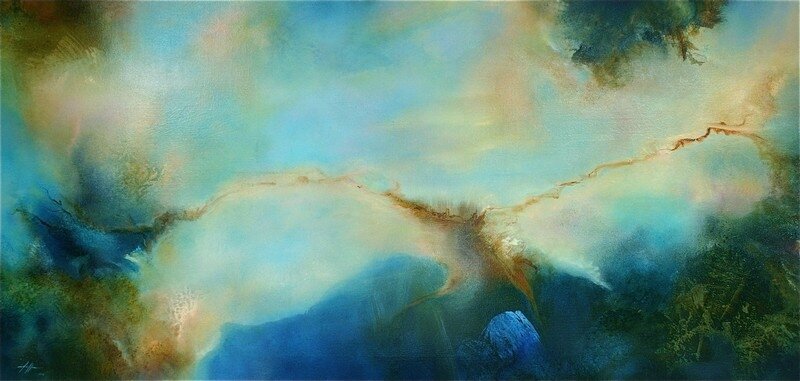 Here is Dragonis, one of the most appreciated paintings not visitors in the salons. It challenges the observer who in his agitation emits suggestions: creation of the world, Bing-bang, nascent entity ... This painting suggests, inspires and aspires us in the mystery and symbolic one of the influences of Nelly which she refers to (Odilon REDON).
We find all the finesse of the artist's work: colors, mathematical shades, accumulation of materials.
The author excels in the sweetness of her art. No violence, no aggression. We glide with her in the lyric abstraction such as ZAO WOU-KI his master.

Dive into this video, enter the enigmatic world of Nelly and leave a comment!
02 décembre 2017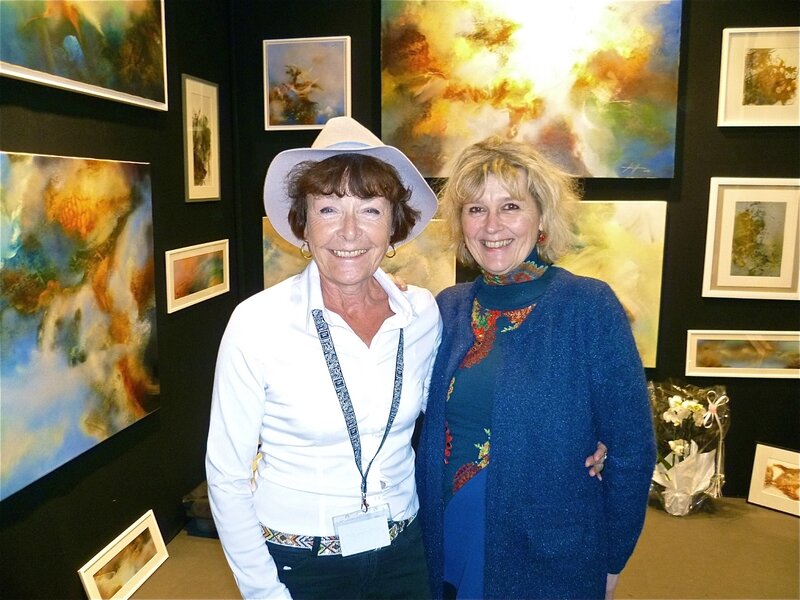 Nelly KIEFFER au salon de Bruxelles. Désolé pour la mauvaise qualité du rendu des toiles (flash) mais ce fut 3 journées intenses. Le bilan : près de 1000 carte visites distribuées, 3 œuvres vendues et de nombreuses cartes postales. Un salon riche en émotion (amitiés belges). Pour rappel, Nelly est née en Belgique et en contacts : Angleterre, Chine, Hollande , Luxembourg et... Belgique !
Une innovation pour ce blog : la musique d'un ami Massimo PASUCH. Un grand merci à lui !
Nelly Kare at the Brussels show. Sorry for the poor quality of the rendering of the paintings (flash) but it was 3 intense days. The balance sheet: almost 1000 card distributed visits, 3 works sold and many postcards. A living room full of emotion (Belgian friendships). As a reminder, Nelly was born in Belgium and in Contacts: England, China, Holland, Luxembourg and ... Belgium!
An innovation for this blog: The music of a friend Massimo PASUCH
20 novembre 2017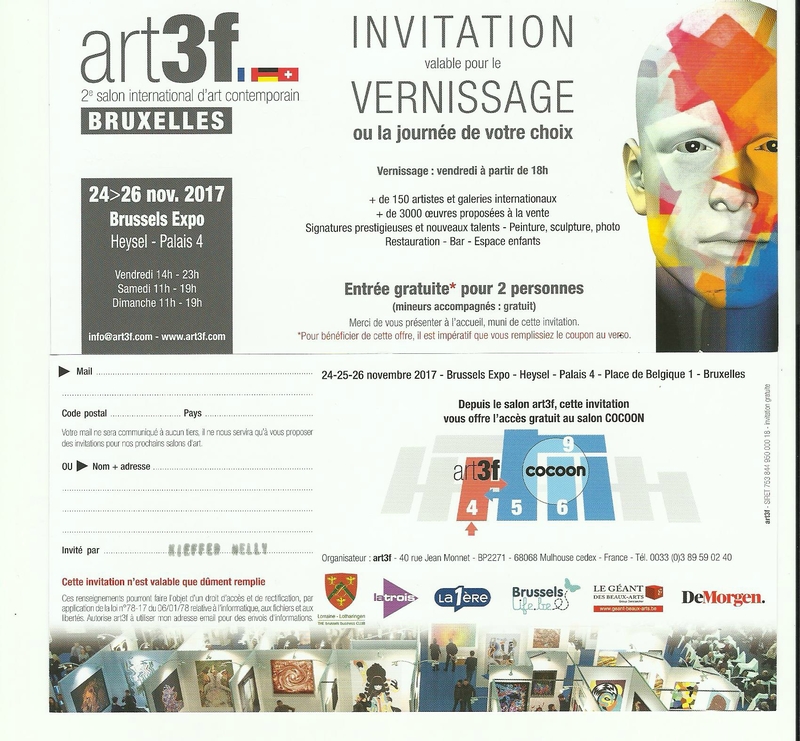 Voici une invitation pour le vernissage de Bruxelles qui se déroulera du 24 au 26 novembre 2017. Nelly a le stand D 11 .
Pour rappel, je vous remets la vidéo qui regroupe les toiles présentées. C'est avec plaisir que Nelly vous recevra.
Here is an invitation for the Brussels Vernissage, which will take place from 24 to 26 November 2017. Nelly has the Stand D 11.
As a reminder, I give you the video that brings together the paintings presented. It is with pleasure that Nelly will receive you.
LES OEUVRES A BRUXELLES 2017
16 novembre 2017
Nelly sera au salon international d'art contemporain de Bruxelles du 24 au 27 novembre 2017.
pour les personnes qui peuvent se déplacer les horaires sont les suivants :
vendredi de 16 h à 23 h (avec le vernissage à partir de 18 h)
samedi de 10 h à 20 h
dimanche de 10h à 20 h
Le lieu : le parc des expositions de Bruxelles
Voici une vidéo avec les oeuvres présentées : huiles sur toile (de grandes dimensions), huiles sur papier, encres de chine et oeuvres mixte : huile + encre
Nelly will be at the Brussels International Contemporary Art fair from 24 to 27 November 2017.
For people who can move the schedules are as follows: Friday from 4 pm to 11 pm (with opening from 6 pm)
Saturday from 10 am to 8 pm
Sunday from 10 am to 8 pm
The venue: The Brussels Exhibition Centre here is a video with the works presented: oils on canvas (large dimensions), oils on paper, inks from China and mixed works: Oil + ink
LES OEUVRES A BRUXELLES 2017